The Peppy 2017 Honda Civic Si Is Almost Here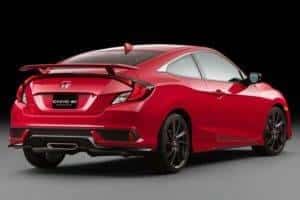 News about the 2017 Honda Civic Si being released sometime this year has been circulating for quite some time, and while we've seen it on Honda's "future vehicles" page, we haven't had any concrete details about the new vehicle—until now. Keep reading to learn what we've found out.
No Frills High-Performance
The 2017 Honda Civic Si is prepared to show that it doesn't have to don the name of a luxury sports car brand to deliver incredible and awe-inspiring performance. The Si incorporates a 1.5L turbocharged engine with all the energy it needs to push out 205 hp and 192 lb-ft of torque. The vehicle also comes with great extras like limited slip differential to increase the driver's handling and an adaptive damper system to increase the vehicle's stability. With all of these great things going for it, the 2017 Honda Civic Si proves that it's pretty fearsome competition.
Breathtaking Design
The exterior of the 2017 Honda Civic Si is absolutely gorgeous, at least that's what we can glean from Honda's prototype pictures scattered all over the web. The exterior makes a statement and shows drivers that there's nothing wrong with a strong sports appeal. We can also see that there will be two-door and four-door options. This gives drivers a chance to further customize their vehicles with a coupe or sedan body style. Despite which model you choose, a few key components are really to thank for the impressive look of the exterior, such as center-outlet sport exhaust system, front splitter, rear wing, and 18-inch machine-finished alloy wheels.
Stay Tuned for the Honda Civic Si
There's still so much left for us to learn about the 2017 Honda Civic Si, and we can't wait until it shows up at dealerships! While we're waiting for the Si to make its appearance, come down to a Montana Honda Dealer location near you. You can test drive currently available models and learn more about financing options or our current offers!