2017 Toyota RAV4 vs. 2017 Honda CR-V: Which Has More Interior Space?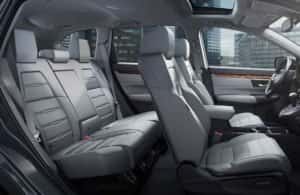 Montana's drivers are starting to discover the incredible possibilities offered by the vehicles in the compact SUV market segment. Still, for most of these drivers, it's not always easy to see where one option enjoys a clear advantage over the others! Two of this year's most competitive choices have been the 2017 Toyota RAV4 and the 2017 Honda CR-V, but once we look past the surface, it's easy to see that the latter provides drivers with much more for their money.
Although the CR-V wins out over the RAV4 in nearly every possible way, here, we're focusing in on one category that drivers and passengers both place a high premium on: interior space. If you want a spacious, useful, and well-equipped interior, then you'll be much happier behind the wheel of the Honda CR-V.
The CR-V's Upscale Interior
The reviewers at Edmunds.com have written that "the 2017 CR-V has a much more stylish and adventurous cabin design that still retains the old model's practicality," and we couldn't agree more. Of course, style isn't the CR-V's only advantage! Drivers are also sure to appreciate that the CR-V comes standard with floor mats and automatic climate control, features that the RAV4 lacks. In terms of raw size, too, the CR-V comes out ahead.
While the RAV4's baseline trim offers just 101.9 cubic feet of passenger volume and no more than 73.4 cubic feet of maximum cargo space, the CR-V is able to provide 105.9 cubic feet and 75.8 cubic feet of each, respectively. These maximum cargo volume measurements apply to both vehicles when their fold-down rear seats have been fully engaged, but even when you're driving with a full load of passengers, you'll still possess more cargo space in the CR-V.
Montana drivers who opt for the CR-V will have access to a wide array of standard features and technologies, and when you utilize our tips and tricks, you'll be able to take advantage of them all as soon as you drive your crossover off the lot!
Take the Next Steps
Contact us today to take the 2017 Honda CR-V for a test drive and see for yourself where its interior space provides an advantage over the 2017 Toyota RAV4! Our convenient Montana Honda Dealers locations have current offers and financing options you'll want to explore that will make purchasing your new CR-V even easier! We can't wait to put you behind the wheel.