The 2018 Toyota C-HR Is Missing Something Crucial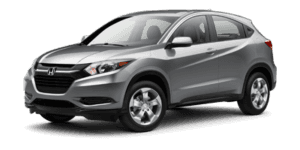 Honda's and Toyota's vehicles are often compared to one another; however, Honda vehicles tend to outshine their competition in most of these cases. In this particular scenario, we take a look at the 2018 Toyota C-HR and how it fails to hold its ground against the 2017 Honda HR-V. Stay tuned to find out all of the juicy details.
2017 Honda HR-V AWD Actually Exists
The first thing you'll notice when comparing these two vehicles is the lack of an AWD system from the 2018 Toyota C-HR. The CH-R does not offer all-wheel drive capability, even as an optional feature, which is not typical of SUV-type vehicles. The C-HR instead gives drivers a lackluster two-wheel drive system. The 2017 Honda HR-V offers all-wheel drive even at the base model. For the HR-V to be a model year younger than the Toyota, but still offer more in the performance department than Toyota proves that there's more to be had for less with Honda. That's right, the Toyota C-HR is priced at $22,500 MSRP while the Honda HR-V LX AWD is only $21,565 MSRP.* Not to mention, the 2017 Honda HR-V currently holds the top spot in subcompact SUV performance in U.S. News and World Report's rankings.
At this point it should be clear that the 2017 Honda HR-V has more to give, but if you're still unsure, check out a few of the other areas where Honda does it better than Toyota:
More Cargo Space – Toyota provides a measly 36.4 cubic feet of cargo space, which is nothing compared to the Honda's 57.6 cubic feet.
Passenger Space – Passengers of the Toyota will be much more cramped with only 83.8 cubic feet of passenger space, while the HR-V has an ample 100.1 cubic feet of space.
Curb Weight – The HR-V is much lighter than the C-HR at 3,062 pounds compared to the 3,330 pounds of the C-HR.
Check Out Our Honda Inventory Today
The 2017 Honda HR-V AWD model clearly does it better than the C-HR. Check out the vehicle in all its glory at your local Montana Honda Dealer or contact us online to learn more about financing and current offers we are running. We look forward to working with you soon!