How Does 2019 Honda CR-V Cargo Space Compare to Rival Models?
Honda CR-V Cargo Dimensions
Both roomy and accessible, the Honda CR-V outclasses the competition by providing:
Up to 39.2 cubic feet of cargo space behind the 2nd row.
Up to 75.8 cubic feet of cargo space behind the 1st row.
If those numbers look good in isolation, they're going to look even better when compared against rival compact SUV models:
Toyota RAV4: Up to 37.6 cubic feet behind the 2nd row and 69.8 behind the 1st row.
Mazda CX-5: Up to 30.9 cubic feet behind the 2nd row and 59.6 behind the 1st row.
Hyundai Santa Fe: Up to 35.9 cubic feet behind the 2nd row and 71.3 behind the 1st row.
Ford Escape: Up to 34 cubic feet behind the 2nd row and 68 behind the 1st row.
Nissan Rogue: Up to 39.3 cubic feet behind the 2nd row and 70 behind the 1st row.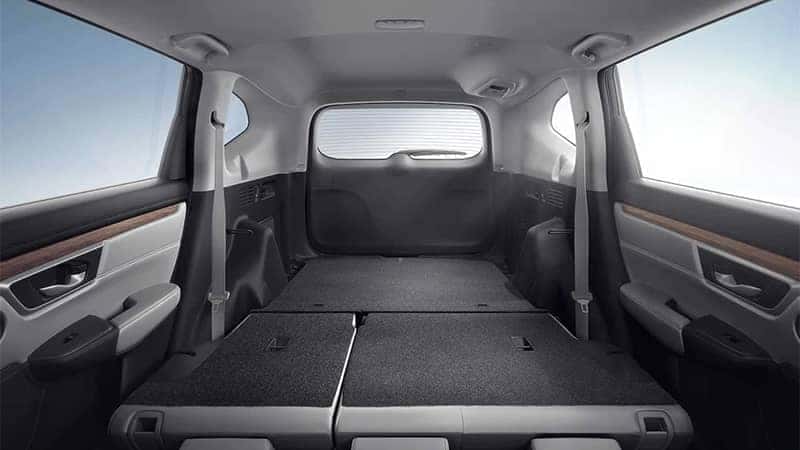 Honda CR-V Cargo Features
Drivers are immediately impressed by the cargo space on offer from the Honda CR-V. When they take a closer look, a wealth of further cargo-carrying features stand out, including: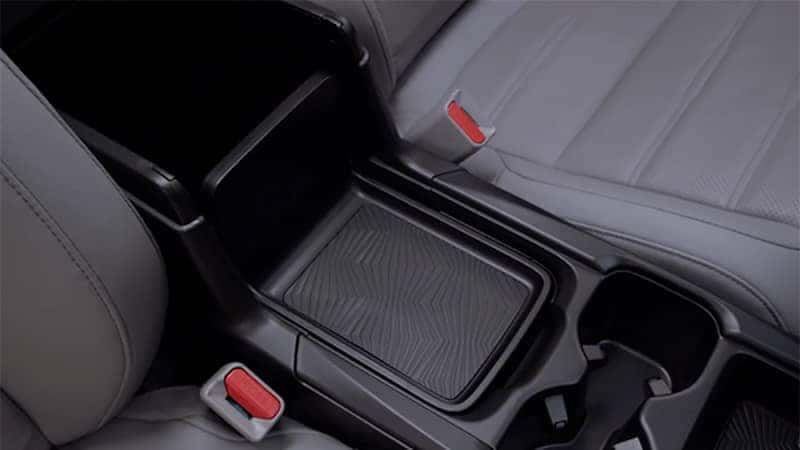 Easy Fold-Down 60/40 Split Rear Seat: Pull down all or part of the rear row to extend cargo space into the passenger compartment.
Low Load Floor: Makes it easy to load and unload heavy and bulky items.
Hidden StorageCompartment: Pull back the carpeted floor panel to find a handy space for your valuables.
Cargo Area Tie-Down Anchors: When you load heavy items, secure them down to prevent movement as you drive.
Retractable Cargo Area Cover: When there's something in your cargo area you'd rather keep private, simply pull down the cover.
Hands-Free Access Power Tailgate: As long as the key fob is about your person, all it takes is a kick of your foot under the rear bumper to have the tailgate open automatically.
You'll also find several smaller storage solutions across the cabin.
Multi-Functional Center Console Storage with Sliding Armrest
Conversation Mirror with Sunglasses Holder
Front and Rear Beverage Holders
Lockable Glove Compartment
Driver-Side Garment Hook
Door-Pocket Storage Bins
Interior Accessories
The Honda CR-V's standard and available cargo features can be supplemented by one of the following interior cargo accessories to help protect the storage area, secure items, and keep things organized.
Cargo Liner: Protects the cargo area – including the floor, sides, and backs of the 2nd-row seats – from wear and tear.
Cargo Net: Keeps loose items securely in place and your grocery bags upright.
Cargo Organizer: Prevents spillable items taking a tumble and divides your cargo into separate partitions.
Cargo Tray: High-quality molded plastic protects the cargo area and easily cleans with soapy water.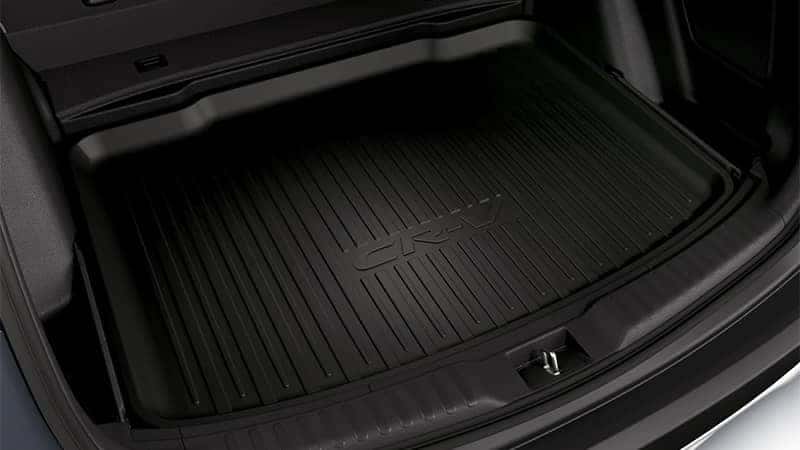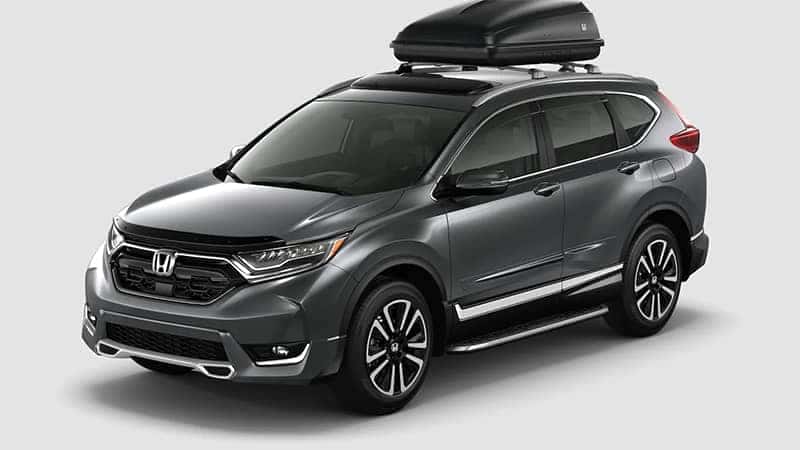 Exterior Accessories
You'll also be able to choose from several exterior accessories to carry more cargo and hold a diverse range of outdoor equipment.
Options include:
Cross Bars
13 Cubic Foot Roof Box
Ski/Snowboard Attachment
Kayak Attachment
Bike Attachment
Surfboard Attachment/Stand-Up Paddleboard Holder
There's even an available tent that extends to sleep 6 people in a 10 ft by 10 ft structure, and provide added cover via a 6 ft by 6 ft rainfly.