2020 Honda CR-V Hybrid

The 2020 Honda CR-V boasts a wide range of changes to bring it right up to the cutting-edge, and the all-new 2020 Honda CR-V Hybrid is bringing next-generation efficiency to this legendary crossover SUV. Drivers seeking to blend the space and performance of a crossover with the efficiency and eco-friendliness of a hybrid are eager to find out more, so read on to explore:
Honda CR-V Hybrid Engineering
Honda CR-V Hybrid Design
Honda CR-V Hybrid Engineering
The Honda CR-V Hybrid will be built at the company's Greensburg, Indiana plant. In fact, it's joining the Accord Hybrid and Insight to become the third electrified Honda manufactured in the U.S., and Honda has invested $4.2 million and created 34 new jobs to support its production.
Beneath the hood you'll find the same Two-Hybrid hybrid electric system currently used in the increasingly popular Honda Accord. The powertrain will combine a 2.0L 16-valve DOHC Atkinson Cycle engine with two electric motors to produce up to a generous 212 hp combined, and Honda tells us to expect an impressive 50% increase in EPA city fuel economy ratings compared with the standard CR-V model.
The system's sophisticated Intelligent Power Unit (IPU) will tirelessly distribute power between all four wheels, and the first application of All-Wheel Drive to the Two-Motor system within the United States will ensure total peace of mind whether you're tackling off-road trails or driving through adverse weather conditions.
Honda CR-V Hybrid Design
The Honda CR-V gets several styling updates to give it a modern sense of a self, and the Honda CR-V Hybrid enjoys a few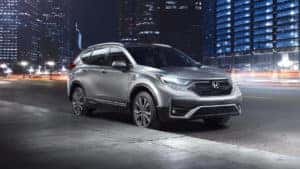 exclusive design touches of its own. You'll find Hybrid badging across the body, a distinctive blue Honda logo on the grill, and a hidden tailpipe at the back. Touring trims sport a unique rear bumper.
The Hybrid lineup also gets two of the new exterior colors available with the 2020 CR-V lineup, including:
Sonic Gray Pearl
Radiant Red Metallic
Visit Us Today to Hear About all 2020 Honda CR-V Changes
As the first Honda Hybrid with AWD and the latest iteration of Cars.com's #1 Compact SUV, the Honda CR-V Hybrid is naturally attracting plenty of attention. To find out more or hear about current offers, don't hesitate to contact us directly or pay a visit to your nearest Montana Honda dealer.