5 Reasons Why a Hybrid SUV is Perfect for a Recent Grad
Published: 06-19-2023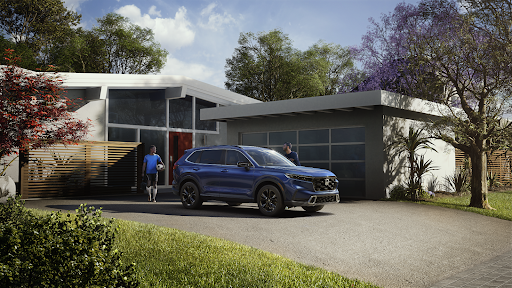 For recent graduates who are looking for a hybrid SUV, Honda's CR-V Hybrid is a great choice -- it provides a balance of fuel efficiency, versatility, and practicality.
The Honda CR-V Hybrid combines the popular compact SUV design of the Honda CR-V with a hybrid powertrain for improved fuel efficiency. It offers a comfortable and well-appointed interior with ample cargo space, making it suitable for both daily commuting and weekend adventures.
Hybrid SUVs are not only eco-friendly but also offer the benefits of spacious interiors and advanced features.
A Hybrid Honda CR-V is the choice for a recent grad due to the following reasons:
Fuel Efficiency: The CR-V delivers exceptional fuel efficiency, allowing drivers to save on fuel costs and reduce their carbon footprint. The hybrid CR-V provides higher MPG ratings compared to its non-hybrid counterpart, making it an environmentally conscious choice.
Eco-Friendly: Recent grads can take pride in driving a vehicle that emits fewer greenhouse gases and contributes to a cleaner and greener future.
Cost: With improved fuel efficiency, drivers will spend less at the gas pump. Additionally, some states and localities offer incentives, tax credits, or reduced toll fees for hybrid vehicles, adding to the potential financial benefits. On top of that, Honda offers their College Graduate Program* to qualifying drivers, which could get up to $500 toward a new Honda hybrid car.
Versatility and Utility: The CR-V hybrid has the same spaciousness, practicality, and versatility as its non-hybrid counterpart. It offers plenty of cargo space, comfortable seating, and the convenience of a compact SUV, making it suitable for many uses like commuting, road trips, or hauling belongings during post-graduation moves.
Advanced Technology and Features: The hybrid CR-V comes equipped with advanced technology and features that enhance the driving experience, including the latest infotainment systems and driver-assistance features for safety.
A hybrid Honda CR-V is an ideal choice for recent grads in Montana due to its fuel efficiency, environmental consciousness, cost, versatility, and advanced features. Drivers can rely on a Hybrid CR-V to meet all of their lifestyle needs.
Visit Montana Honda Dealers Today
To learn more about Honda's hybrid models, stop into your local Montana Honda Dealers today to speak to one of our experts.
*For well-qualified clients who meet Honda Graduate Program criteria, subject to approval by HFS. Only one $500 Honda College Graduate Bonus per Honda vehicle 2023 or newer. $500 towards Cap Cost Reduction or Down Payment Assistance with the lease or purchase of a new and not previously reported sold Honda vehicle. Offer cannot be combined with Zero Due at Signing Lease Program. Offer applies to eligible college graduates who have graduated within the past two years or will graduate within the next six months with a master's, bachelor's or associate's degree from a U.S.-accredited college or registered nursing school. Offer valid through 04/01/2024 and may be terminated at any time.