Honda CR-V and Safety: How Lane Watch Keeps You Safe
Published: 05-15-2023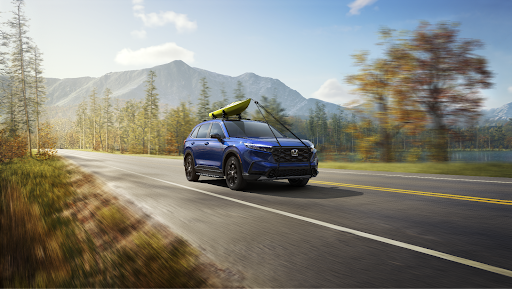 Honda Lane Watch is a safety technology available on the 2023 Honda CR-V that helps drivers to see more of what's happening in the lane next to them. The system uses a camera mounted on the passenger side mirror to display live video of the vehicle's blind spot onto the center display screen.
What Does Lane Watch Do?
When activated, the Lane Watch system provides a clear and detailed view of the vehicle's blind spot. This is particularly useful when changing lanes or merging onto the highway, as it allows drivers to see any vehicles or obstacles that may be in their blind spot.
The Lane Watch system also provides visual and audible alerts when a vehicle is detected in a blind spot. This feature helps drivers to stay focused on the road ahead and avoid potential accidents.
The Lane Watch system is an especially good fit in the 2023 Honda CR-V, which is a great model for families, so the system adds an extra layer of security.
In addition to Lane Watch, the CR-V has a range of other safety features, including Honda Sensing, a suite of advanced driver assistance technologies that includes lane departure warning, forward collision warning, and automatic emergency braking.
The CR-V is also designed with an advanced airbag system, anti-lock brakes, and electronic stability control. Together, all of these features work together to help drivers stay safe and in control on the road.
Honda Lane Watch is an innovative safety technology that helps drivers stay aware of their surroundings and avoid potential accidents. Along with the other advanced safety features, the 2023 Honda CR-V is one of the safest vehicles on the road today.
Learn More About the Honda CR-V Today
Find our crew of experts at your local Montana Honda Dealers by Googling "car dealer near me" to learn more about the features of the 2023 Honda CR-V and see if it's right for you.