Honda Vehicles Are Inspired by Motorsports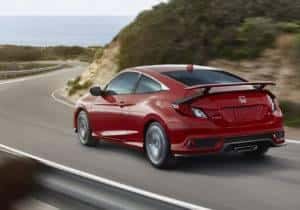 Honda is a well-known name in the world of motorsports, and once you've learned what their celebrated vehicles can do, it's not hard to see why! In fact, just this year, Honda's entry into the Indianapolis 500 earned 1st place, thanks in part to Takuma Sato's excellent driving. This expertise in the realm of fast-paced, high-stakes competitions has helped Honda to make their production models vastly superior to those of their competitors—especially in the fields of engine performance, power, and fuel efficiency. Honda's new "Racing at Heart" campaign is giving Montana drivers a taste of Honda's history of success, and we've highlighted a few of their most exciting new offerings below!
Get Your Heart Racing
The Civic has been a favorite among Montana drivers for years, and this year, the Civic Si Coupe and Civic Type R builds are sure to make a big impression with folks who value power and performance. The 2017 Honda Civic Si Coupe provides the feature suite and fuel economy ratings that have made the Civic so popular, and what's more, it's been equipped with a 1.5L turbocharged engine that provides plenty of horsepower and torque. In fact, the Civic Si Coupe has so much potential that the folks at Honda have seen fit to enter it into the Red Bull Global Rallycross competition, where it will test its mettle against some of today's best-performing small cars.
This year's Civic Type R has also been praised far and wide! No FWD vehicle has ever performed a faster lap at the famed Nürburgring track, and the writers at Motortrend.com have given it a glowing review.
On top of all this, Honda has reinvigorated the entire pickup segment by releasing the 2017 Honda Ridgeline late last year; this one-of-a-kind pickup comes equipped with tons of standard features from the factory. Honda has seen the platform capable enough to create a desert racing motorsports version to take on the competition in the sand.
Take a Honda for a Test Drive
Montana drivers who appreciate Honda's history in motorsports can test drive all their favorite models at their nearest Montana Honda Dealers showroom! Be sure to take advantage of our current offers and financing options to get the most out of your visit.